Specialty Insurance
Your Specialty Insurance Agent Software Solution
---
Starting at $30 /User /Month
• 30 - Day Free Trial
• Add Your Entire Team
• No Credit Card Required
• No Import/Export Fees*
• Cancel Anytime
---
Our
Specialty Insurance
 management system is specifically designed for insurance brokerages and agencies of any size. No special customization or extra costs are involved.  
Manage your clients, employees, and your entire brokerage. Furthermore, CaptaIMS is easy to use and affordable. Add the Specialty Insurance vertical and other modules like Commercial Insurance and Marine Insurance modules to build your suite of CaptaIMS solutions. Create a CaptaIMS account today and boost your brokerage's productivity.
CaptaIMS, with its specifically designed industry data collection, built-in e-signature, phone system, and more, allows insurance professionals the versatility in using our system for insurance management, prospecting, document compliance, as well as a CRM.
What's more, CaptaIMS is great for Specialty Insurance Agents,  Fine Art Insurance Brokers, Vintage Auto Insurance Specialists,  Specialty Insurance Brokerages and Agencies, Data Processors, etc...
The C.A.S.E. for choosing captaIMS - Specialty Insurance

Convenient: You can access CaptaIMS from any browser or mobile device as a cloud-based insurance agent software. Add and delete users on the fly with our admin tools. In addition, take advantage of our built-in functionality. Send, receive and organize emails as well as e-signatures directly to and from your policy records. Finally, be assured that CaptaIMS can grow as your business grows.
Affordable: CaptaIMS is aggressively priced to allow even single-user subscriptions with unlimited access. Easily add users and data on the fly with no binding contracts, in short, simple pay-as-you-go pricing.
Simple: No software to install or maintain... sign up, set up, and go! The easy-to-navigate console gives you quick status of your clients, policies, or prospects at a glance, with links to drill down to the details you need. Moreover, track and maintain your entire pipeline without messy whiteboards, spreadsheets, or confusing email trails.
Effective: View your clients as well as your prospect's pipeline anytime. Track the entire pipeline from when a lead is generated until a policy is sold. Not to mention you can, easily prioritize leads and monitor activity. Finally, With color-coded aging indicators and configurable alerts, you can quickly act on policy renewals that have reached critical dates.
Contact us for Enterprise Features and Pricing.
(833) 932-2782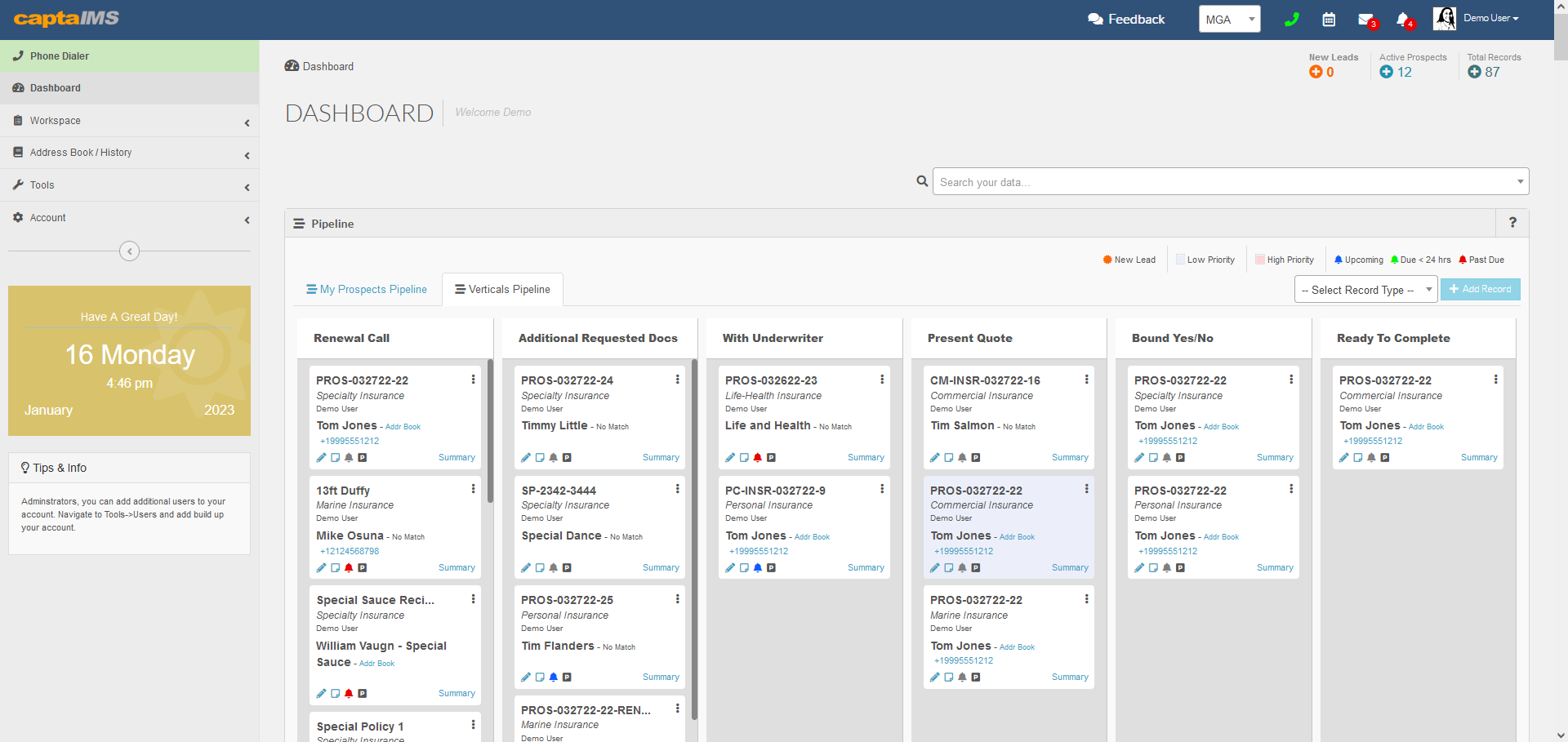 CaptaIMS Desktop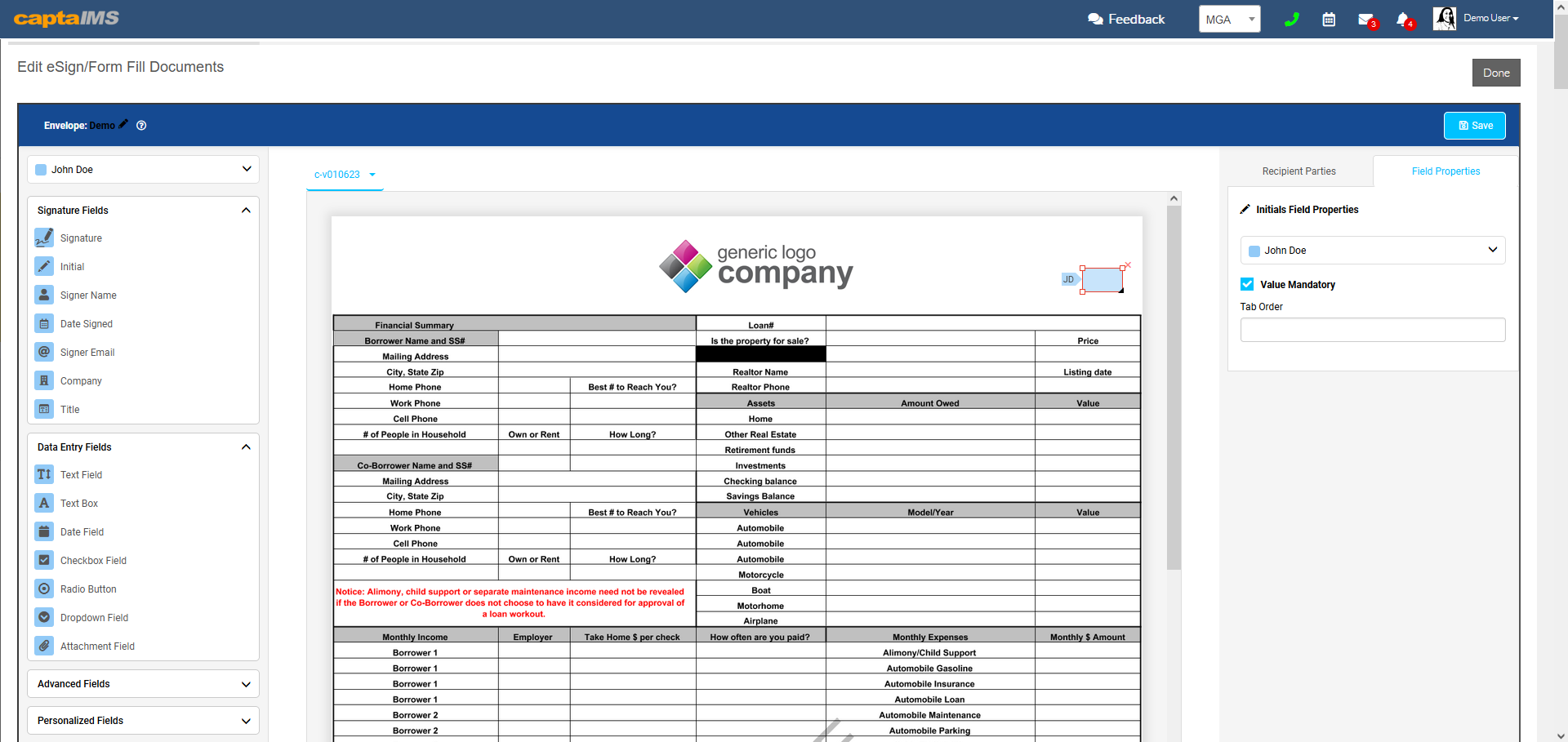 CaptaIMS built-in e-Signature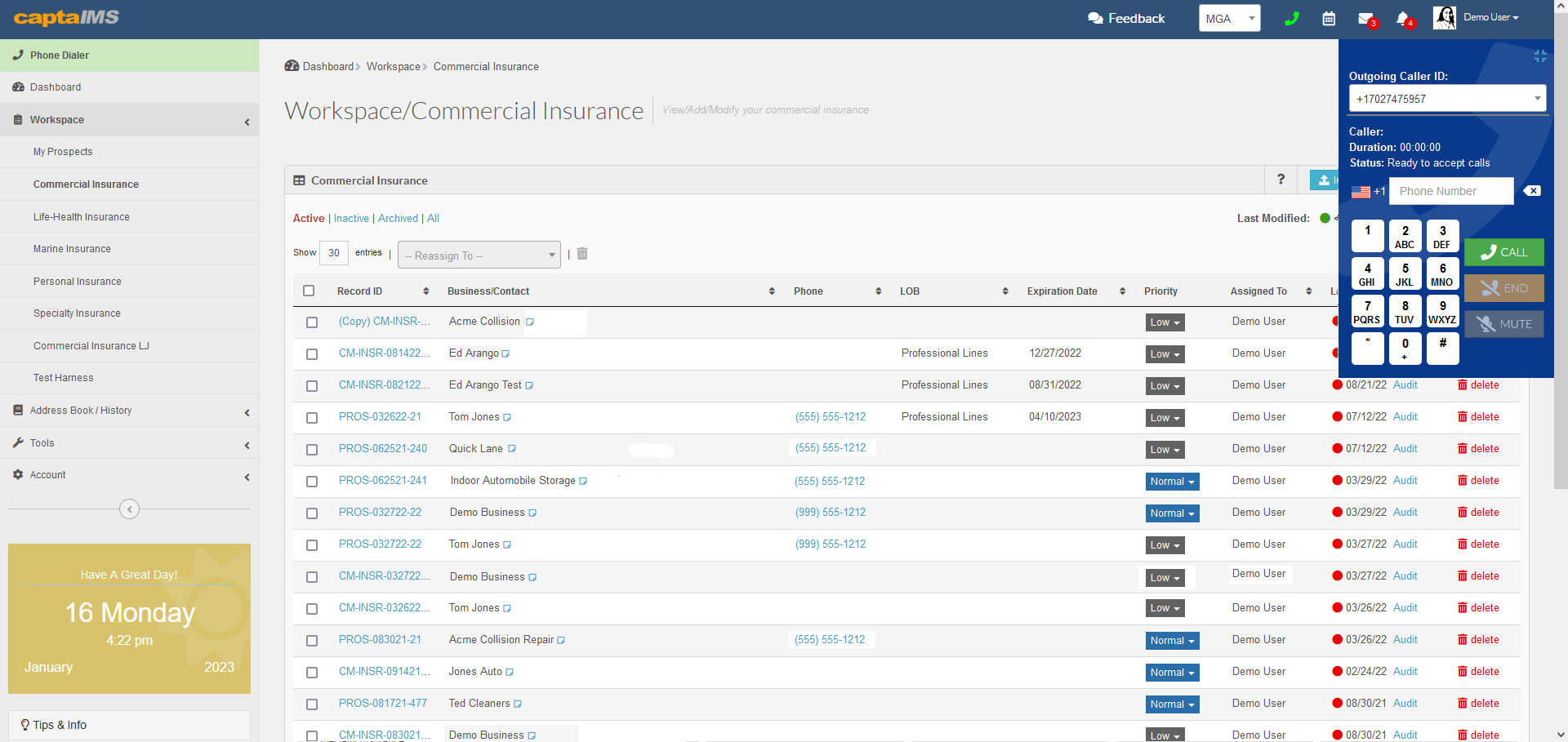 CaptaIMS w/ Phone enabled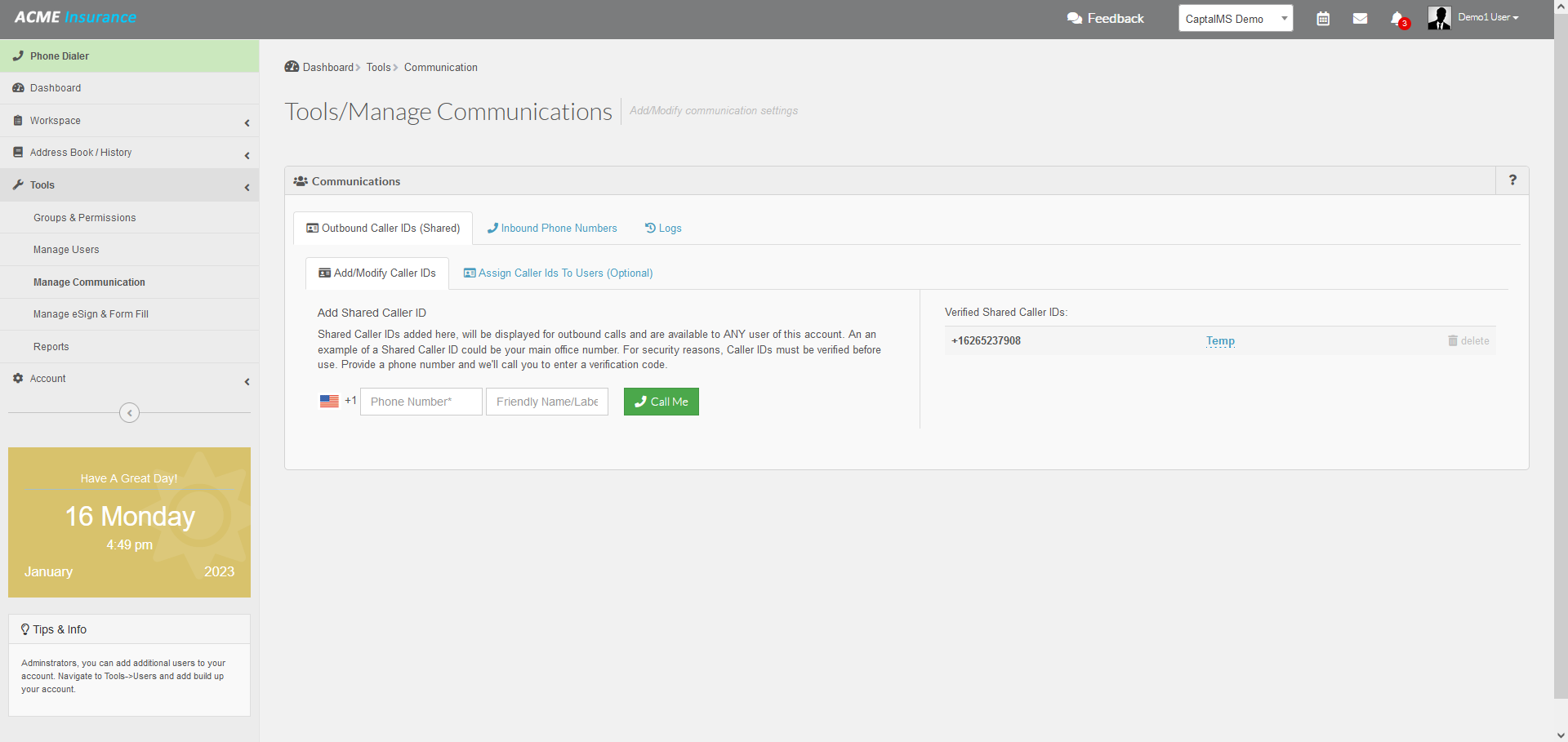 CaptaIMS White Labeled
Organizing your Specialty Insurance Brokerage towards success.
Enterprise Features
.
Contact for pricing  - (833) 932-2782
Contact us for Enterprise Features and Pricing.
(833) 932-2782
Use Cases
.
Here are a few use-case scenarios that CaptaIMS can accomplish.
---

Scenario: End-to-End Client Processing

Solution: An insurance brokerage uses CaptaIMS insurance management software to streamline its process for handling prospects. The software allows the brokerage to efficiently review and assign leads to , ensuring that each prospect receives the attention they need on time.

1. A prospect fills out a form on the brokerage's website, providing information about their insurance needs and contact information.

2. CaptaIMS automatically captures this data and creates a new prospect record.

3. The manager reviews the prospect record and assigns it to an agent based on their expertise and availability.

4. The agent receives a notification of the assignment and begins working with the prospect to gather additional information and assess their policy needs.

5. The agent uses CaptIMS software to track their progress and update the manager on the prospect's status.

6. If the prospect decides to move forward with the brokerage, the agent uses the software to help generate the necessary documents and complete the policy request process.

7. The manager continues to monitor the progress of the policy request through CaptaIMS, ensuring that all necessary steps are completed in time.

Scenario: Need to have a Call Center type Solution.

Solution: A commercial insurance brokerage uses the CaptaIMS CRM portion of its policy management software to contact a list of customers using the built-in phone system for improved communication and data collection.

1. An administrator of the CaptaIMS account enables the built-in phone system.

2. Agents navigate to your CaptIMS dashboard or vertical workspace to generate a list of client records.

3. The agent then clicks on a client's phone number launching the built-in dialer and phone system.

4. As the agent converses with the client. Then can simultaneously collect data such as notes and set task reminders for that client.

5. When the conversation is complete, the user can move to the next client in the list and re-start the entire process.

6. This process can continue until the user completes the list of clients they need to contact.

7. The manager continues to monitor the progress of the policy request through CaptaIMS, ensuring that all necessary steps are completed on time.

Scenario: Need to get the client's e-Signature

Solution: A specialty insurance broker uses CaptaIMS, policy management solution, and needs a signature from a client.

1. A broker searches for a client and navigates to their record.

2. The broker creates a new e-signature job and provides the necessary data, including pdf(s) and recipients needed for signature.

3. The broker makes adjustments to the pdf, such as adding a signature field, signature date field, and any other required fields needed for the e-signature job.

4. The broker sends the e-signature job to the client through CaptaIMS.

5. Client completes the signature, and all parties involved are notified that the job is complete.

6. The broker navigates back to the client's record, where they can view, download, and archive signature documents for later use.
Manage your Specialty Insurance Policies for better production and efficiency.
Security
.
Database Encryption - Your private information, as well as all of your client data, is encrypted to ensure privacy and protection.
Privacy - All of your personal information (including your e-mail address) is private and will never be sold or shared to any external parties. In addition, your client data is 100% yours. No one else can see it or use it, including CaptaIMS Staff. And if you leave, you take your data with you.
User Permissions - Permission groups are available within the CaptaIMS insurance agent software to allow or deny users access to your client data. If you wish to prevent certain employees from viewing or editing your client data, you may do so using Permission Groups.
Export Utility - If you wish to maintain a private backup of your data, an Export utility is available, allowing you to extract all of your lead, policy, address book, client data and contact information. This can also be useful for importing into another CRM software application.
Starting at $30 /User /Month
30- Day Free Trial
Add Your Entire Team
No Credit Card Required
No Basic Import or Export Fees
Cancel Anytime

(833) 93-CAPTA / +1 (833) 932-2782