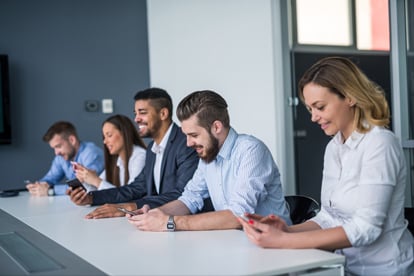 Do you think Agency Management Software (AMS) is just for mid-sized or large insurance companies?  Even if you are a staff of one or two people, the organizational power of a great AMS can improve your efficiency.  While Agency Management Software is crucial for larger businesses, it may play an even more important role for insurance startups.  AMS's have potential to benefit a small organization by helping you to stay organized and giving you an edge in delivering superior customer service.  Let's go over the 5 reasons Insurance Startups should consider Agency Management Software.
5 reasons Insurance Startups should consider Agency Management Software
1–Access All Your Important Info in One Place
Startups typically are made up of small teams of people who wear many different hats. Streamlining processes is essential. Having an AMS that offers a single platform to access information about clients can make all the difference. Look for an AMS that packs a lot of tools into the feature lineup. That way, you can do more in one spot, like making calls to insurance prospects with a single browser click.
2–Create a Customer-Oriented Culture
AMS's are all about managing customer relationships. But the best ones help you create a culture that centers around your clients and customers from the start. And that is one of the best ways for a startup to stand out in the crowd.  An AMS puts useful information at your fingertips.  Not only does a AMS help you organize all your information, it also provides a single point of access to the most critical information for your business. You get a complete picture of your customer's inquiry.  An AMS can be similar to a CRM.  Here is an article discussing the differences between an AMS and a CRM.
3–It all boils down to Speed and Efficiency
Time is money and being efficient can make or break a small insurance business.  Making customers happy is the most important step in building your startup's reputation and growing your business. The right AMS gives you valuable information at your fingertips so you can connect with your customers, understand their interests and address their needs.
4–Get your Insurance Startup Organized
Startups typically have a lot going on all at once. Without a AMS, startups risk misplacing key bits of information. With a AMS, data gets organized and nothing falls through the cracks.  Never lose a phone number, email address or other key information again. The AMS harnesses all those important details and gives you the ability to access it quickly.  Even better, when you choose the right AMS, customer records will immediately pull up when they call in, giving your startup the edge you need to deliver outstanding customer service.
5–Scalability
We all know that startups are all about scalability. But did you know that the right AMS can give you the ability you need to scale as well?  A AMS system can help bridge the gap when you're light on staff with features like call groups which routes calls to the best person for the job.
In addition to AMS there are other types of software that can help insurance agencies succeed. For example, social media management tools can optimize marketing processes by having a single dashboard to manage social media activities. Still, one of the most important tools available to these agencies are an Agency Management System. Choosing the right one is critical.
Looking for the perfect AMS for your startup?  Whether you sell benefits, senior or life products,  CaptaIMS  can save you time, money and clients. CaptaIMS is a powerful, modern agency management system with CRM management tools.
Visit CaptaIMS and check out the full-featured platform that gives you everything from a call center cloud with local presence dialing and robust AMS features.